Special Pricing on Dr. T's CFS & Fibromyalgia Practitioner Training
Published: March 30, 2017
Hello Practitioner,
I'm excited to announce that for the next four months we've slashed the price of our online practitioner training for CFS and fibromyalgia to just $195 — that's a $400 savings off its regular price of $695!
The course, titled "Dr. Teitelbaum's S.H.I.N.E.® Protocol for CFS & Fibromyalgia," is designed for healthcare professionals who want to expand their practice to help people with these complex illnesses — regardless of your current level of expertise on the subject. It's web-based, self-paced, and I am the instructor.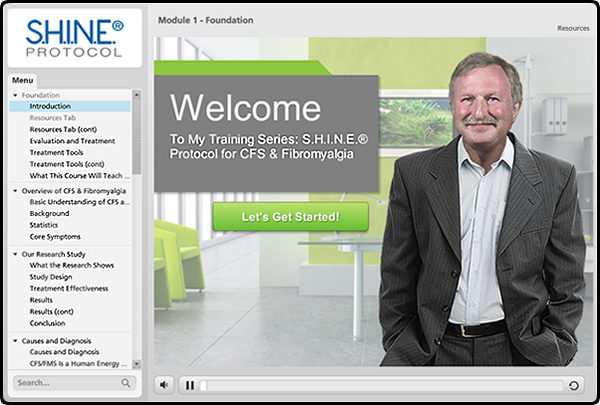 What you'll get:
6-8 hours of self-paced, audio/visual lessons on how to treat CFS/FMS using my research-backed S.H.I.N.E.® protocol.
Free tools to help you diagnose and treat people with CFS and fibromyalgia.
A training completion certificate suitable for framing in your office.
And (importantly) inclusion of your practice in our "CFS/Fibromyalgia Practitioner Referral List" — a searchable database hosted at our website that allows people to find practitioners trained in treating CFS and fibromyalgia.
Whether you're an MD, ND, DC, LAc, nutritionist or any other healthcare professional, you'll find this clinically-oriented training packed with useful yet easy to follow insights. The course covers 9 different topics over separate modules that you can take at your own pace, breaking them into as many sessions as is most convenient to you. You also retain permanent access to it, so you can return whenever you like to refresh a needed lesson.
Quick and highly effective lessons you'll learn include:
Understanding and diagnosing CFS and fibromyalgia
Optimizing sleep
Improving hormonal support, including thyroid, adrenal, ovarian and testosterone
Addressing infections, including Candida, antibiotic sensitive infections, and viral infections
Nutritional support made easy — without having to take handfuls of pills
Exercise and mind-body issues related to CFS/FMS
Eliminating CFS/FMS related pain
Watch this short, free sample of the course (click to enroll in the course marked "Free Sample Module").
Whether you're a prescribing physician or you treat people naturally, you'll be a CFS and fibromyalgia expert in just 6-8 hours, with countless complex topics made incredibly simple.
Ready to learn a straightforward, systematic, highly effective approach to helping people heal? Ready to have more of them find your practice?
Love and blessings,
Dr. T
Watch this short, free sample of the course (click to enroll in the course marked "Free Sample Module").
Jacob Teitelbaum, M.D., is author of the best-selling From Fatigued to Fantastic!, Pain Free, 1,2,3!, The Fatigue and Fibromyalgia Solution, and the popular free smartphone app Cures A-Z. He is the lead author of four studies on effective treatment for fibromyalgia and chronic fatigue syndrome. Dr. Teitelbaum appears often as a guest on news and talk shows nationwide including Good Morning America, The Dr. Oz Show, Oprah & Friends, CNN, and Fox News Health. Learn more at Vitality101.com.