From Fatigued To Fantastic! (New Edition)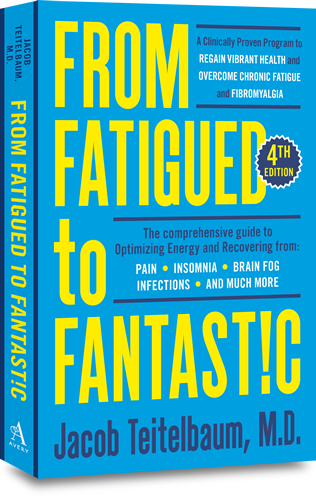 After its initial release in 1995, From Fatigued To Fantastic became the best-selling, authoritative source for teaching you how to recover your vitality, and address complex situations including fatigue, poor sleep, "brain fog," and widespread achiness. This new, just released, 4th edition, is now completely revised and updated. The most recent and relevant scientific information on addressing the human energy crisis is simplified, organized, and distilled into a simple "what to do now" format.
From Fatigued to Fantastic examines over a hundred factors that can impact energy, sleep and mental clarity (e.g., methylation, molds, sensitivities) and makes addressing them easy to understand and apply. Got brain fog? The "Brain Fog Friendly Summaries" will allow you to quickly go through the book and pick up all the key points you need to understand in less than an hour. Then you can dive deeper into the areas that are most important for you!
See what's new in the revised From Fatigued To Fantastic.
What People Say About Dr. T's Book
Jacob Teitelbaum's newest edition of From Fatigued To Fantastic! is a must read for all those suffering from chronic illness, as well as those treating patients with chronic illness. I use the information presented in this book every day in my practice with great success. I highly recommend this book for all to read and learn."
— David Brownstein, M.D., author of The Miracle of Natural Hormones
I provide all my patients with From Fatigued To Fantastic! and find it a wonderful tool to open dialogue between the patient and myself. It is critical that the patient play a major role in his or her own healing. This book provides that bridge. I could not practice as effectively without this book."


— Terence Collins, M.D., MPH, MPS, Chairman and Program Director of the Department of Preventive Medicine and Environmental Health
You Might Also Be Interested In ...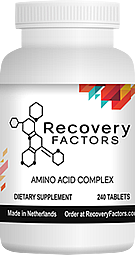 Recovery Factors®
Recovery Factors® is a unique serum derived polypeptide complex developed as a powerful nutritional support supplement. It has clinically been found to be safe and effective for over 15 years. Our just completed study showed that 60% of those who tried it saw an average 69% improvement in overall well-being and energy in just one month!* Learn more »
Smart Energy System™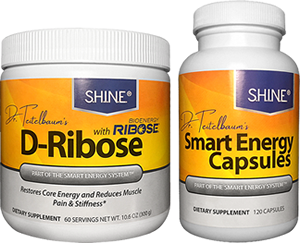 Formulated by Dr. Teitelbaum, the Smart Energy System™ is a bundled pairing of D-Ribose and Smart Energy Capsules, a proprietary blend of Ashwagandha, Rhodiola, green tea extract, Schisandra, and licorice. Studies show this combination promotes energy, overall well-being, sleep, mental clarity, relief of achiness, and numerous other mental and physical benefits.* Learn more »