Silly One-Liners
Published: March 11, 2022
I used to think the brain was the most important organ. Then I thought, look what's telling me that.
It's hard to explain puns to kleptomaniacs because they always take things literally.
Time flies like an arrow, fruit flies like a banana.
A soldier survived mustard gas in battle, and then pepper spray by the police. He's now a seasoned veteran.
What's the best thing about Switzerland? I don't know, but their flag is a huge plus.
A Buddhist walks up to a hotdog stand and says, "Make me one with everything."
What is Bruce Lee's favorite drink? Wataaaaah!
Why is 6 afraid of 7? Because 7 is a registered 6 offender.
You kill vegetarian vampires with a steak to the heart.
"This is your captain speaking, AND THIS IS YOUR CAPTAIN SHOUTING."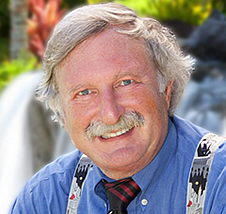 Jacob Teitelbaum, M.D. is one of the world's leading integrative medical authorities on fibromyalgia and chronic fatigue. He is the lead author of eight research studies on their effective treatments, and has published numerous health & wellness books, including the bestseller on fibromyalgia From Fatigued to Fantastic! and The Fatigue and Fibromyalgia Solution. Dr. Teitelbaum is one of the most frequently quoted fibromyalgia experts in the world and appears often as a guest on news and talk shows nationwide including Good Morning America, The Dr. Oz Show, Oprah & Friends, CNN, and Fox News Health.