Effective Treatment for Autism! A New Study
Published: July 3, 2012
Categories:
Imagine witnessing an authentic medical miracle.
Well, I did — when I saw an autistic girl become verbally normal after receiving an NAET treatment from my wife Laurie Teitelbaum, MS, who practices NAET in Kona, Hawaii.
I was shocked. Thinking it must be a fluke, Laurie and I explored further, and found that autistic children recovering with NAET was the rule rather than the exception. We happily and excitedly decided that our foundation needed to fund a study to explore this!
NAET is short for "Nambudripad's Allergy Elimination Technique." This unique treatment for allergies and sensitivities (to foods, nutrients and other environmental factors) draws from many natural healing modalities, including acupressure, kinesiology, chiropractic and nutrition. It works by positively reprogramming the person's negative responses to allergens/sensitivities — like hitting a "reset" button — and by balancing energies throughout the body.
NAET was discovered in 1983 by Devi S. Nambudripad, MD, PhD, DC, LAc. (Yes, she's an MD, and a chiropractor, and an acupuncturist, and a PhD … and without an ego!) Since then, countless thousands of patients have been helped through NAET. Including me.
I first encountered NAET when my severe hay fever symptoms were eliminated by a 20-minute NAET treatment from Laurie — and they never recurred! And yes, Laurie continues to amaze and inspire me. I tease that if the holistic medicine I do is 25-50 years ahead of standard medicine, then NAET and what Laurie does is 50 years ahead of me!
But the healing power of NAET isn't limited to curing allergies and sensitivities, because many other conditions are caused or complicated by sensitivities. The list includes (but isn't limited to) CFS, fibromyalgia, backache, migraines, arthritis, asthma, hyperactivity, anxiety, depression, addictions … and autism.
Our foundation approached Dr. Devi and her team of researchers at the NAET Research Foundation (NARF) in Buena Park, California, and we all decided to move forward with the study. We hypothesized that food and nutrient sensitivities were major contributors to the development and symptoms of autism — and we tested that hypothesis in a study of 60 autistic children. The study and our resulting findings were recently published in Integrative Medicine — A Clinician's Journal (IMCJ).
The children were 2 1/2 to 10 years old. Thirty of them (26 boys and 4 girls) were randomized to receive NAET treatments for one year, targeting 50 key allergens. Another thirty (the control group, with 25 boys and 5 girls) did not receive NAET. For the children receiving NAET, the improvements were life-changing.
Twenty-three of the 30 children in the NAET group were able to return to regular school classes with their healthy, non-autistic peers — as opposed to none of the 30 untreated children in the control group!
The children receiving NAET also had other, highly significant improvements, including:
68.4% decrease in mean total score in the Autism Research Institute's Autism Treatment Evaluation Checklist (ATEC) — a set of four tests designed to help evaluate the extent of a child's autism.
64-82% range of decreases in the four ATEC subtests.
47.4% average increase in the Childhood Autism Rating Scale (CARS) — another tool for asssessing autism severity.
85% decrease in the total Allergy Symptom Rating Scale (ASRS) — a tool for evaluating allergies.
I was honored to be the lead author of the study, helping to make sure that it was properly done from start to finish.
We found that NAET is an effective, safe and simple treatment for children with allergy-related autism. In human terms, NAET can provide profound and dramatic benefits, giving children with autism and their families their lives back.
More Good News About NAET
There are over 10,000 NAET practitioners worldwide, all trained by Dr. Nambudripad (including my wife Laurie, who practices in Hawaii; You can visit Laurie's website at NAET Hawaii).
You can also download the full study (pdf).
All I can say is WOW! Miracles really do happen!
Know anyone with autism? Please pass this info to anyone you know who can be helped by this new treatment. Let's make this blessing happen!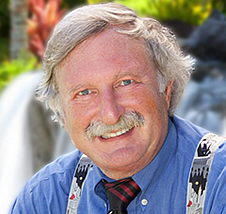 Jacob Teitelbaum, M.D. is one of the world's leading integrative medical authorities on fibromyalgia and chronic fatigue. He is the lead author of eight research studies on their effective treatments, and has published numerous health & wellness books, including the bestseller on fibromyalgia From Fatigued to Fantastic! and The Fatigue and Fibromyalgia Solution. Dr. Teitelbaum is one of the most frequently quoted fibromyalgia experts in the world and appears often as a guest on news and talk shows nationwide including Good Morning America, The Dr. Oz Show, Oprah & Friends, CNN, and Fox News Health.