Healthier Summer Treats
Published: October 22, 2012
Categories:
Summer is here, and and it's time to start taking advantage of the warm weather, getting outdoors and joining in on favorite activities. It's a great time for fitness and fun in the sun (good ol' vitamin D). But summer can also be a time of temptation to over-indulge in unhealthy treats — sodas and other sugar-sweetened beverages, ice cream, and Margaritas by the pool. If you're not paying attention, you can easily undo all the benefits the healthy season has to offer. In this week's newsletter, we'll remind you of the importance of watching your sugar intake. We'll give you a few pointers on how to do it, and share a couple of recipes for healthy summer treats. With a little effort, you'll find it's not too difficult to satisfy your sweet tooth and still reach the end of summer with a slimmer waistline.
According to the USDA, the average American consumes 20-40+ teaspoons of processed sugar every day, way more than the amount the USDA recommends we limit ourselves to. And that's not counting the sugars contained naturally in the foods you eat such as fruit and milk. Teens average a whopping 34+ teaspoons a day — that's over 500 calories devoid of vitamins or minerals. As bad as that sounds, I suspect the numbers are even worse during summer vacation.
The reason? Being outdoors and away from your own kitchen can put you at the mercy of unhealthy meals. You're surrounded by snack food stands and fast food joints that bombard you with offers of soft drinks and sugar-coated, sugar-filled, sugar bombs.
Resist those temptations! With just a little bit of planning you and your family can learn to dodge the sugar bombs and still satisfy your hot afternoon summer cravings. Here are a few strategies that can help.
Think "Smart Snacks"
Learn to find the healthier snacks at your grocery store and keep them around the house. Shop for snack foods that are packaged in individual servings so they're convenient for carrying outdoors. Fresh fruits are delicious and healthy, and a good way to feed your sweet tooth. Nuts and seeds (e.g., Sunflower seeds) are also great tasting and provide lots of vitamins, minerals and fibers — and fibers have the added benefit of promoting a sense of fullness, which also helps reduce craving for sugary foods. A side benefit? Some nuts, such as walnuts, are high in a special fat called "ALA," which may burn more calories than they supply. Repeated studies have not only shown that most nuts lower cholesterol, but also that adding 1/2 cup of walnuts a day does NOT cause weight gain!
Keep Sugar-Free Drinks Handy
Soft drinks are loaded with sugar — a 32-oz "Big Gulp" soda from 7-Eleven can have over 24 spoons of sugar. That's 384 calories of sugar! Instead, prepare your own drinks by mixing 2 ounces of fruit juice with 6-8 ounces of sparkling water. You'll be surprised at how little flavor you lose, and you can even add some stevia to sweeten it more. If you prefer sports drinks, try some of the new all natural coconut waters on the market. They're filled with nutritional goodness, are low sugar and taste great (be sure you get the ones that have no added sugar). Making your own lemonade or iced tea and sweetening it with stevia also makes a healthy and yummy drink option.
Fruits and Veggies Can Be Great Snacks, Too
Fruits and vegetables are plentiful in summer. Make it a habit to stock up on your favorites and pack them with you when heading out. These are a healthy and delicious way to naturally satisfy some of your sugar cravings. Get ice creams and frozen yogurts that say "No Sugar Added" to enjoy a great summer snack — without the sugar!
Wishing you a continued fun and healthy summer!
Love and blessings,
Dr. T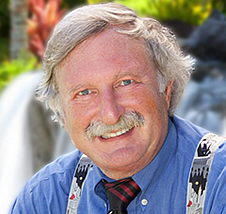 Jacob Teitelbaum, M.D. is one of the world's leading integrative medical authorities on fibromyalgia and chronic fatigue. He is the lead author of eight research studies on their effective treatments, and has published numerous health & wellness books, including the bestseller on fibromyalgia From Fatigued to Fantastic! and The Fatigue and Fibromyalgia Solution. Dr. Teitelbaum is one of the most frequently quoted fibromyalgia experts in the world and appears often as a guest on news and talk shows nationwide including Good Morning America, The Dr. Oz Show, Oprah & Friends, CNN, and Fox News Health.