CFS/Fibromyalgia-Friendly Recipe: Pumpkin Pie
Published: November 9, 2018
Many people with CFS and fibromyalgia find that they have trouble tolerating wheat and dairy. With that in mind, here's another great FMS-friendly dish from one of my favorite nutritionists, Lauren Hoover-West. (Visit Lauren's blog to see all her Thanksgiving recipes.)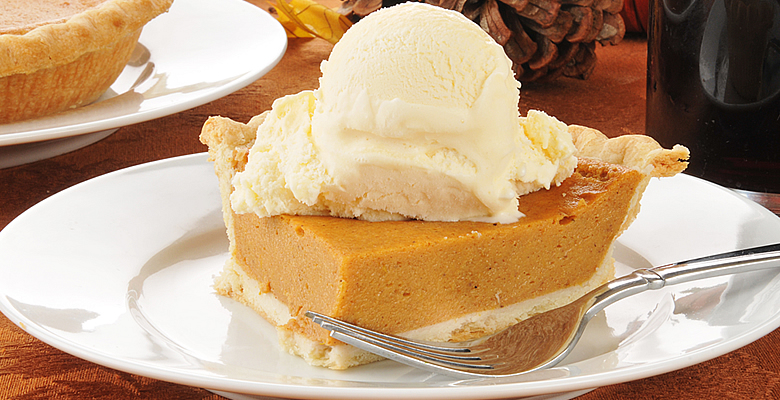 Lauren's Pumpkin Pie
A holiday favorite, this pie is light and silky with all the holiday spices and flavor on a flaky crust. Fabulous a la mode with vanilla ice cream! Also delicious for breakfast with a cup of hot tea or coffee. (Hey, it's a vegetable!)
Yields: 1 Pie
Pie Filling
Ingredients:
1 15oz can organic pumpkin*
2 Lg. organic eggs, beaten (optional, omit for egg-free)
1 cup unsweetened nut or seed milk (Three Trees or Malk)
1/2 teaspoon Sweet Leaf Liquid Stevia
1 teaspoon ground organic cinnamon
1/2 teaspoon grated organic whole nutmeg
1/4 teaspoon ground organic ginger
1/8 teaspoon ground organic cloves
1 teaspoon Himalayan or Sea salt, fine
1 single pie crust
Directions:
In an electric mixer fitted with a paddle attachment, blend all ingredients except pie crust together on low speed, mixing well (you can also do this by hand with a whisk or handheld mixer on low). Do not over beat.
Pour into pie shell.
Bake on second from bottom shelf at 425 degrees for 15 minutes, and then reduce temperature to 350 degrees and bake for an additional 45 minutes.
Cool on a wire rack. Then cover and refrigerate.
*Do not use pumpkin pie filling.
**Maple syrup has the most flavor, but coconut palm nectar has a lower glycemic index. You may blend 1/2 cup soaked Medjool dates in warm water, pit and blend with a little warm water to make a paste.
Pie Crust
This delicate, flaky pie crust can be made by hand or in a food processor (which is much faster). I learned how to make this from my Aunt. Her desserts are perfection and the whole family always looks forward to enjoying them at gatherings and holidays!
Yields: 2 single crusts
Ingredients:
4 1/2 cups gluten-free oat flour or alternative flour of choice (sorghum, amaranth, millet)*
1/2 teaspoon Himalayan or sea salt, fine
1 tsp. ground ceylon or Vietnamese cinnamon (for blood sugar balancing)
6 oz. Miyoko's vegan butter, frozen or cold and diced**
3/4 cup refined coconut oil
1 TBSP - ½ cup iced water (bottled or filtered, depending on humidity)
Directions:
Put bowl and pastry cutter into the freezer while measuring out ingredients.
Keep the pieces of vegan butter cold, which will make the crust flaky rather than tough.
Sift flour and salt into a large mixing bowl or mix in food processor.
Add vegan butter and cut into the flour with a pastry cutter, or pulse with food processor, until it is the size and texture of cornmeal.
Add coconut oil and cut into the flour with cutter, or pulse with food processor, until it is the size of small green peas.
Slowly drizzle iced water, 1 tablespoon of at a time, into dough and blend just until dough forms a ball or comes together so it doesn't break apart.
Take a tablespoon of dough and roll it out. If it cracks or falls apart, add more water. If the dough is sticky, you've added too much water and you need to add 1-2 tablespoons of flour. The humidity in the air will determine how much water you will need.
Cut dough in half, put into a freezer zip bag, and freeze until ready to use.
When ready to use, thaw the dough in the refrigerator for 8 hours.
Rolling out dough (also see videos below):
Cut the edges of the plastic bag open, with dough in it, so you have two pieces of plastic.
Roll dough once with even pressure and turn a quarter turn and continue rolling and turning until it is 1/4 inch thick.
If using plastic, remove the top piece of plastic bag and lift up the bottom piece of plastic holding the dough. Then flip it over into a pie pan and peel off the plastic.
Roll out remaining half of dough after you have filled the pie and are ready to bake it.
Be sure to put a vent hole or slice 3 slits in top of pie crust for the steam to release while baking.
Below are two videos I made that demonstrate how to roll out dough for pie crusts.
*Dough can be frozen up to 6 months if double wrapped in plastic and then put into a zip freezer bag. It will keep in the refrigerator for a few days. You can combine various flour.
**Vegan Butter at Trader Joe's or Whole Foods/Health Food Stores, made from cashews and coconut oil and probiotics!
**Butter: If you prefer butter, be sure it is grass-fed and pastured. Raw is most digestible. I do not endorse any dairy as it is correlated with many health issues.
Be Well & Thrive,
Lauren Hoover-West, Holistic Health Coach & Chef
Phone: (925) 457-7799 | Website:
No Wheat, No Dairy, No Problem!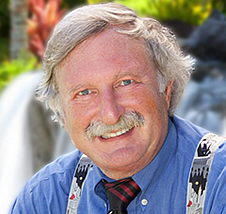 Jacob Teitelbaum, M.D. is one of the world's leading integrative medical authorities on fibromyalgia and chronic fatigue. He is the lead author of eight research studies on their effective treatments, and has published numerous health & wellness books, including the bestseller on fibromyalgia From Fatigued to Fantastic! and The Fatigue and Fibromyalgia Solution. Dr. Teitelbaum is one of the most frequently quoted fibromyalgia experts in the world and appears often as a guest on news and talk shows nationwide including Good Morning America, The Dr. Oz Show, Oprah & Friends, CNN, and Fox News Health.