Is Autism Related to CFS and Fibromyalgia?
Published: July 23, 2012
Categories:
Acetyl L-Carnitine Improves Autism
Many specialists who work with autism as well as CFS and fibromyalgia — myself included — find that there is a major overlap between the three conditions. I suspect all three have related underlying processes and, given a specific genetic makeup, the very same processes that trigger CFS and fibromyalgia in adults can trigger autism in children.
Because of this overlap, I've also been involved in research on helping children with autism. Autism is a brain function disorder that results in impaired social interaction, difficulty with communication, and restricted and repetitive behavior. These symptoms start before a child is three years old and affect four times as many boys as girls. It can be very severe, or in milder forms called Autism Spectrum Disorder (e.g., Asperger Syndrome). Like CFS and fibromyalgia, the prevalence of autism is skyrocketing and is currently present in almost 1% of our nation's children!
A new study1 sheds light on the relationship between these disorders by showing that a nutrient called L-carnitine, which regulates energy production and is helpful in addressing CFS/FMS (referring to the "acetyl" variety of L-carnitine — see Acetyl L-Carnitine for CFS and Fibromyalgia), can also help address autism.
Study Findings
The study was conducted by researchers at the Institute of Chronic Illnesses in Silver Spring, Maryland. They studied 30 children with ASD. The children were divided into two groups, with one group being given a daily dose of 50 mg of L-carnitine for every kilogram of body weight (e.g., a 60-pound child would have taken 1,364 mg of L-carnitine a day) while the other group was given a placebo.
After three months, the children taking L-carnitine had "significant improvements" in the severity of ASD, reported the researchers in Medical Science Monitor.
Improvement was measured in several ways and included improved scores on the Childhood Autism Rating Scale (CARS), which rates children on their ability to relate to people, body use, adaptation to change, listening response, and verbal communication; and on the Autism Treatment Evaluation Checklist, which evaluates children on speech/language/communication, sociability, sensory/cognitive awareness, and health/physical behavior. (You can download the checklist from the Autism Research Institute website.)
The researchers also linked higher blood levels of carnitine to hand muscle strength, cognitive scores, and CARS scores.
Another remarkable option for autism is a special acupressure technique called NAET, which eliminates food sensitivities. After seeing a young autistic girl go from nonverbal to being a chatterbox with this therapy, we explored the therapy further — and found this type of remarkable result was common. Our foundation then funded a study in which I was the lead author using NAET in autism. By the end of one year (100 simple therapies), 23 of the 30 autistic children in the treatment group were back in regular schools (as opposed to none of the 30 in the untreated control group). The study has been accepted for publication (due October 2011). For more information, and to find over 12,000 NAET practitioners worldwide, visit NAET.
References
1"A prospective double-blind, randomized clinical trial of levocarnitine to treat autism spectrum disorders" (abstract), The Institute of Chronic Illnesses, Inc., Silver Spring, MD, U.S.A. and CoMeD, Inc., Silver Spring, MD. PMID: 21629200 [PubMed].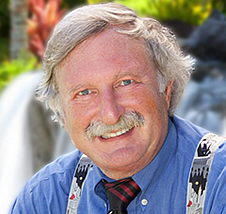 Jacob Teitelbaum, M.D. is one of the world's leading integrative medical authorities on fibromyalgia and chronic fatigue. He is the lead author of eight research studies on their effective treatments, and has published numerous health & wellness books, including the bestseller on fibromyalgia From Fatigued to Fantastic! and The Fatigue and Fibromyalgia Solution. Dr. Teitelbaum is one of the most frequently quoted fibromyalgia experts in the world and appears often as a guest on news and talk shows nationwide including Good Morning America, The Dr. Oz Show, Oprah & Friends, CNN, and Fox News Health.