Free Online Event: The Thyroid Summit
Published: May 19, 2014
Categories: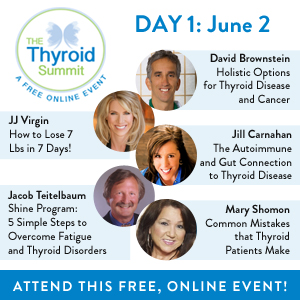 I'd like to invite you all to a FREE online event called The Thyroid Summit coming up this June 2-9. I'm going to be joining with over 30 other presenters to talk about the problems and solutions for undiagnosed thyroid illness. I assure you this is going to be a fun, and potentially life-changing event, for all who attend.
America's Pharmacist Suzy Cohen and Dr. David Brownstein created The Thyroid Summit because they both had personal experiences with undiagnosed thyroid illness. The frustration of chronic illness and the lack of proper testing and treatment leaves people sick and tired for many years. They want to stop the madness and help people, so they're on this mission to spread the word of good health! It's a great feeling to pay it forward, and you can help!
Why Attend?
The Thyroid Summit brings together more than 30 of the world's leading authorities on thyroid wellness. You don't have to fly anywhere. You don't have to wait in long lines. You don't have to watch from the back of a room. You don't have to spend another dime to hear what the experts have to say. It's all free!
Why conventional medicine has failed most thyroid patients
What are the best lab tests to order
Which blood test you don't need
Why you're always the coldest one in the room
What are the best ranges for certain blood tests (because your lab "normals" are not ideal)
It doesn't stop there! You'll get the most up-to-date information about:
Which natural remedies work for Graves' disease, Hashimoto's, hypothyroidism, and cancer
The connection between thyroid hormones and pregnancy, PMS and post-partum depression
How to finally lose those last few pounds or more!
What supplements can make your hair and nails grow faster
How to relieve anxiety, depression and other emotional problems related to low thyroid
And much more!
Here Are a Few of the Incredible Presenters
David Brownstein, MD
Holistic Options for Thyroid Disease and Cancer
Suzy Cohen, RPh
Thyroid Healthy: Lose Weight, Look Beautiful and Live the Life You Imagine
Yours Truly
S.H.I.N.E. Program: 5 Simple Steps to Overcome Fatigue and Thyroid Disorders
Kent Holtorf, MD
Don't Fall Through the Cracks: Safely and Effectively Treat Your Thyroid Condition
Hyla Cass, MD
A Holistic Psychiatrist's Approach to Thyroid Disorders
Jean Dodds, DVM
Our Pets: Could Your Dog or Cat Have Thyroid Disease?
Greg Emerson, MD
Stress, Anxiety, Anger and the Relationship to Thyroid Hormone
Jonathan Wright, MD
How to Optimize Thyroid Function
Ben Lynch, ND
Folic Acid, Methylation and the Connection to Low Thyroid
Aristo Vojdani, PhD, MSc, MT
The Most Important Lab Tests You Should Take and Multiple Chemical Sensitivity
In addition, if you register today, you'll have access to the following FREE GIFT as soon as you register! Mike Adams, Health Ranger from NaturalNews.com, is bold enough to tell the world the truth about "Everyday Pollutants that Poison Your Thyroid," and what you can do to protect yourself.
The impact of radiation from Fukushima on your thyroid
Strange fibers and fragments in your food that make you sick
The dangers of vaccinating your child and the flu vaccine
How fluoride is hidden in your medicine, food, water and thyroid gland
I'll see you at the Summit!
Love & blessings,
Dr. T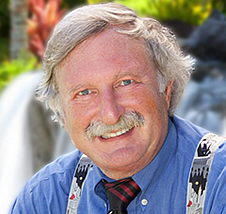 Jacob Teitelbaum, M.D. is one of the world's leading integrative medical authorities on fibromyalgia and chronic fatigue. He is the lead author of eight research studies on their effective treatments, and has published numerous health & wellness books, including the bestseller on fibromyalgia From Fatigued to Fantastic! and The Fatigue and Fibromyalgia Solution. Dr. Teitelbaum is one of the most frequently quoted fibromyalgia experts in the world and appears often as a guest on news and talk shows nationwide including Good Morning America, The Dr. Oz Show, Oprah & Friends, CNN, and Fox News Health.